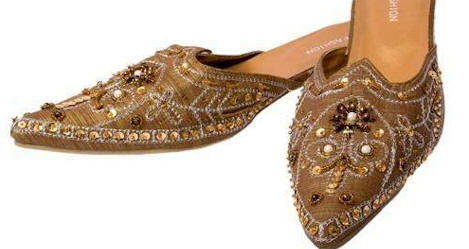 Rajasthan Shoes
Leather is fairly utilitarian material used in different products. Rajasthan's traditional shoes are one of them. The Rajasthani jooties or shoes are world famous, and now an inseparable part of fashion world. Here, cobblers have used leather to make mojaries (soft shoes) with floral patterns. Known for their delicacy and beauty with durability and comfort. Rajas and nawabs used to wear these shoes. The best known centers for such shoes are Jaipur, Jodhpur, Barmer, Bikaner and Jaisalmer.

The making of embroidered leather shoes, mojaries, is practiced all over Rajasthan. Locally cured leather is normally used for this purpose. Skins of buffalo, bull, camel, cow, sheep and goat have been generally used for tanning. The leather is tanned and dyed and made into incredibly soft and still sturdy footwear. The special property of jooties is that they take on the shape of your foot, as you wear them. This also gives an idea about the softness of the mojaris. Traditional mojaris, are still handcrafted from pattern template. In Rajasthan, these shoes are found with colorful embroidery made from coloured bits of wool thread. They go well with bright colored wear, or in contrast with jeans or trousers. Where, these mojaris are known for beauty and design, camel-leather jooties and shoes are the softest and most comfortable. In Rajasthan, jooties are also known by the names mojaris and pagarkhiyas.

The Bishnois residing in northern Rajasthan have continued to wear the traditional embroidered jooties. The colors vary from shades of beige to dark brown or mahroon. They are available as plain jooties or the upper part of the jooti is embellished with embroidery, studded with brass nails or cowrie shells, punched, sequined, stitched or decorated with beads and zardozzi work. Embellished with gold and silver threads, are most beautiful pieces and perfect for traditional and royale feel. They may also be decorated with embroidered silk. The ordinary jutti is either pointed in shape, or rounded. The different forms are known as gol-panja, chota-panja, salem shahi .

The mojaris vary from region to region. Jaipur has the fancy, sophisticated ones which are soft and delicate. They have embroideries done in subtle colors. Jodhpur, on the other hand, has good embroidery in robust patterns and bold shades of contrasting colors. Famous for its ornate embroidery known as Kashida on leather or colored velvets, a pair of Jodhpuri Jootis or Mojris is a symbol of aristocracy in any ceremonial dress.


Welcome Rajasthan Travel & Tourism Services
(Authorized by Tourism Dept. Govt. of Rajasthan)
C/O Umaid Mahal ,C-20 / B-2 Bihari Marg, Jai Singh Highway,
Opp. Lane of K.P. Automotives, Bani Park, Jaipur - 302016, Rajasthan (India)
Telephone : + 91-141-2205528 / 4914416 (09:00 A.M. To 06:00 P.M.)
+91-9829614748 (06:00 A.M. To 06:00 P.M.)
Fax : +91-141-2204470
For Car Rental Email: welcomerajasthan@yahoo.com
For Tour Package Email: info@welcomerajasthan.com

Emergency Contact Number : +91-9829614748

Other Information
City Distances Passport and Visa Information What to Pack Useful Phrases
---
Car Rental Services
Rajasthan Tour Packages