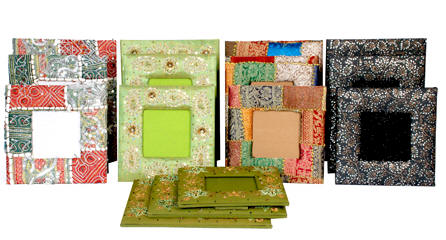 Rajasthan Handmade Paper
Paper making in Rajasthan dates back to 1520s when mughal emperors encouraged this art and established a paper industry here. It was Maharaja Jai Singh II who bought this art to Jaipur and set up a paper business in Sanganer on the outskirts of the city. Today, the name of Sanganer has become synonym of the handmade paper.

The collection includes a variety of products. These acid free handmade papers can be put to multiple usages. Books with blank pages, portfolios, diaries, Stationary set, Photo frame, wrapping papers, Business cards, Letterheads, Envelops, Rough pad, Office Folder Pen Stand, Photo frame, Magazine stand, Coaster, Paper weight, Dustbins Briefcase, Telephone Index cum Diary, Handmade greeting cards, boxes of many different shapes and sizes, pencil boxes, sheets of paper and more. These items make great utility and great gifts. Paper shopping bags are another item much in demand. It is not only very useful, but also helps to reduce the use of poly bags.

The process of making paper begins by reducing cotton waste to pulp. Flower petals and other accessories are added to the pulp which is then transferred to large tanks. Big trays of fine mesh are submerged into the water to take out the pulp from the bottom of the tank, which is then covered with a piece of muslin. The sheet of pulp is added to a pile. The pile is then pressed to drive out most of the water. The resulting sheets are peeled off the muslin and left to dry. The final result is handmade paper which is graceful with embedded various products. They may be further ornamented by different craft accessories.

Variety of accessories and creative minds have lead to a large number of handmade papers, which are not only exotic, but also make the products irresistible. Paper with flower petals, silk paper, mulberry paper, banana paper, drawing paper, mottling paper, colored paper, batik paper, crinkle paper, textured paper, moon rock paper, embroidered paper, stitched paper, embossed papers, printed papers, batik paper are just few of them as the range sees no end. Zari, thread embroidery, hand block printing, embroidery printing, tie & dye, hand painting and other such patterns on these handmade papers add to their grace and charismatic look. The handmade paper can be put to any use and the paper products make perfect gifts.
Welcome Rajasthan Travel & Tourism Services
(Authorized by Tourism Dept. Govt. of Rajasthan)
C/O Umaid Mahal ,C-20 / B-2 Bihari Marg, Jai Singh Highway,
Opp. Lane of K.P. Automotives, Bani Park, Jaipur - 302016, Rajasthan (India)
Telephone : + 91-141-2205528 / 4914416 (09:00 A.M. To 06:00 P.M.)
+91-9829614748 (06:00 A.M. To 06:00 P.M.)
Fax : +91-141-2204470
For Car Rental Email: welcomerajasthan@yahoo.com
For Tour Package Email: info@welcomerajasthan.com

Emergency Contact Number : +91-9829614748

Other Information
City Distances Passport and Visa Information What to Pack Useful Phrases
---
Car Rental Services
Rajasthan Tour Packages