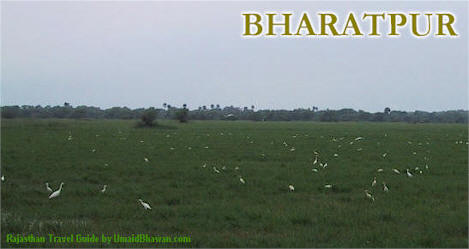 Bharatpur
Bharatpur is considered as the Eastern Gateway to Rajasthan. Bharatpur is popular for its bird sanctuary-the Keoladeo Ghana National Park - finest in Asia rich avian variety. Every year the rare Siberian cranes come to spend the winter in the warmer climate of Bharatpur.

Of the remnants of the royal past remains the marvellous Bharatpur Palace housing a rich repository of a large number of ancient exhibit that date back to the early 15th century.
Altitude: 250 mtrs.
Best Season: Oct. - Feb
Climate: Summer
Mean Max. 45.0 'C
Mean Min. 37.0 'C
Winter Mean Max. 31.0 'C
Mean Min. 7.0 'C
Clothing: Summer light tropical or light Winter Woolen.
Distances from Jaipur
Delhi
251 Kms.
Agra
056 Kms.
Ajmer
313 Kms.
Alwar
116 Kms.
Bharatpur
- Kms.
Jaipur
176 Kms.
Jaisalmer
828 Kms.
Jodhpur
478 Kms.
Mt. Abu
707 Kms.
Ranthambhore
302 Kms.
Transportation
Air : The nearest airport, Agra is 54 kms. However, convenient airports from Bombay are Jaipur (174 km) and Delhi (182 km) since there are no direct flights to Agra from B'bay.
Rail : Bharatpur is on Bombay-Delhi sector of Western Rly.
Road : Bharatpur is well connected by good motorable roads to Agra (54 km), Delhi (182 km), Fatehpur Sikri (20 km), Jaipur (174 km), Mathura (36 km) and Sariska (130 km).
Local Transport/Sightseeing
What to see
Bharatpur Bird Sanctuary - 3 Km. Also known as the Keoladeo Ghanga Sanctuary, it is famous for rare avian species. Stretching over a 29 sq. km. marshy area it is an ideal terrain for migratory birds. Some 353 species live and breed within the park, some of which are egrets, darters, cormorants, grey herons, sarus crane, siberian crane, rosy headed pelican etc. There are also a number of spotted deer, sambar, nilgai, wild boar, python and porcupine. Jeepable roads that form a network through the marshland and boats that canbe painted through weeds make for easy viewing of the birds. All visitors are required to obtain a permit from the Warden or Ranger at the entrance of the parl.Bharatpur Fort-This magnificient 18th century fort built by Raja Suraj Mal was also known as Loha Gadh and proved to be impregnable. Government Museum- The museum in the fort houses sculptures, inscriptions and exhibits of art and culture of the region. Bharatpur Palace - This royal monument is a brilliant blend of Mughal and a Rajput architecture. There is also a museum in the central wing with a few exhibits dating to the 2nd century A.D.
Excursions
Deeg(32 km): Once the summer resort of the rulers of Bharatpur, it served as the second capital of the region. This interesting town is strewn with massive fortifications , stunningly beautiful gardens, magnificent palaces and a colourful bazaar.

Deeg used to be the royal summer resort of the rulers of Bharatpur. It served as the second capital of the region. It is dotted with a number of forts, palaces and gardens--well known for their spectacular architectural splendour. The gardens have beautiful tinking fountains and the aura exudes a majestic Mughal style. The palaces worth visit are Gopal Bhavan and Suraj Bhavan.
Welcome Rajasthan Travel & Tourism Services
(Authorized by Tourism Dept. Govt. of Rajasthan)
C/O Umaid Mahal ,C-20 / B-2 Bihari Marg, Jai Singh Highway,
Opp. Lane of K.P. Automotives, Bani Park, Jaipur - 302016, Rajasthan (India)
Telephone : + 91-141-2205528 / 4914416 (09:00 A.M. To 06:00 P.M.)
+91-9829614748 (06:00 A.M. To 06:00 P.M.)
Fax : +91-141-2204470
For Car Rental Email: welcomerajasthan@yahoo.com
For Tour Package Email: info@welcomerajasthan.com

Emergency Contact Number : +91-9829614748

Other Information
City Distances Passport and Visa Information What to Pack Useful Phrases
---
Car Rental Services
Rajasthan Tour Packages