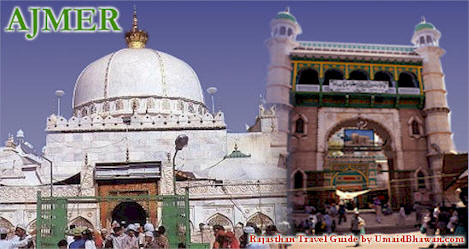 Ajmer
Ajmer was founded by Raja Ajay Pal Chauhan and it is situated in the green oasis wrapped in the barren hills.Ajmer used to be a major center of the Chauhan power till 1193 A.D. when the Ruler Prithviraj Chauhan lost it to Mohammed Ghauri. After Prithwiraj Chauhan Ajmer witnessed dynasties, which came and left leaving behind indelible marks of their culture and traditions on the city's history, converting it to an amalgam of various cultures and blend of Hinduism and Islam.

Today, Ajmer is one of the most significant pilgrimate destination equally important for Hindus as well as Muslims. Especially famous is the Dargah Sharif-tomb of the Sufi saint Khwaja Moinuddin Chisti.

Ajmer is very close to Pushkar (11 kms) which is significant for the famous fair held normally in the month of October/November. Pushkar, the abode of Lord Brahma, lying to its west with a temple and a picturesque lake. The Pushkar lake is a sacred spot for Hindus. During the month of Kartik (Oct./Nov.) ,devotes throng in large numbers here to take a dip in the sacred lake
Altitude: 486 mtrs.
Best Season: July-March
Climate: Summer
Mean Max. 38.1 'C
Mean Min. 28.8 'C
Winter Mean Max. 23.3 'C
Mean Min. 5.3 'C
Clothing: Summer light tropical or light Winter Woolen.
Distances from Jaipur
Delhi
392 Kms.
Agra
388 Kms.
Ajmer
- Kms.
Alwar
288 Kms.
Bharatpur
313 Kms.
Jaipur
132 Kms.
Jaisalmer
513 Kms.
Jodhpur
208 Kms.
Mt. Abu
375 Kms.
Ranthambhore
286 Kms.
Transportation
Air: Nearest Airport Jaipur is Jaipur (138 kms).
Rail: Ajmer is connected by rail to Delhi, Agra, Ahmedabad, Barmer, Bharatpur, Bikaner, Jaipur, Jodhpur, Mount Abu and to Bombay Via Ahmedabad.
Road: Ajmer is well connected by road with Agra (370 km), Bharatpur (312 km), Bikaner (234 km), Bundi (139 km), Chittaurgarh (182 km), Delhi (444 km), Jaipur (138 km), Jaisalmer (458 km), Jodhpur (205 km), Kota (178 km), Mount Abu (371 km) and Udaipur (269 km).
Bus: Rajasthan State Trans. Corpn. Buses connect Ajmer with the above places.
What to see
Adhai-Din-Ka-Jhonpra, Ana Sagar Lake, Circuit House, Dargah of Khwaja Moinuddin Chishti, Soniji ka Nasiyan, Mayo College, Swami Dayanand Saraswati Smarak, Taragarh Fort and the Museum. Pushkar 11 kms, Foy Sagar Lake 12 kms and Kishangarh 27 kms.
Excursions
Bhand Sagar Temple 5 km, Camel Breeding Farm 10 km, Devi Kund 8 km, Gajner Wildlife Sanctuary 32 kms, Deshnok's Karniji Temple 33 kms.
Welcome Rajasthan Travel & Tourism Services
(Authorized by Tourism Dept. Govt. of Rajasthan)
C/O Umaid Mahal ,C-20 / B-2 Bihari Marg, Jai Singh Highway,
Opp. Lane of K.P. Automotives, Bani Park, Jaipur - 302016, Rajasthan (India)
Telephone : + 91-141-2205528 / 4914416 (09:00 A.M. To 06:00 P.M.)
+91-9829614748 (06:00 A.M. To 06:00 P.M.)
Fax : +91-141-2204470
For Car Rental Email: welcomerajasthan@yahoo.com
For Tour Package Email: info@welcomerajasthan.com

Emergency Contact Number : +91-9829614748

Other Information
City Distances Passport and Visa Information What to Pack Useful Phrases
---
Car Rental Services
Rajasthan Tour Packages