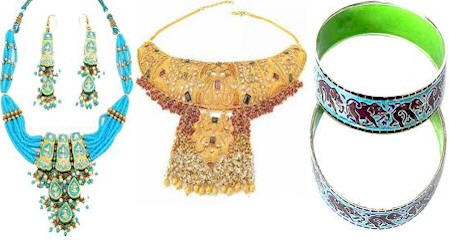 Rajasthan Gems and Jewelry
Rajasthan is famous for its jewellery industry and it is one of the world's largest centres for hand-cutting of gems. It is India's important source for precious and semi precious stones like; Ruby, Emerald, Garnets, Agate, Amethyst, Topaz, Lapis lazuli, Carnelian, etc.

Rajasthan is also known for the art of silver smithy, beginning from anklets to earrings to head gears. A lot of effort goes into its making since most of the rural communities wear silver ornaments. Besides silver, it is known for its Lac bangles, Kundan and Minakari, enameled gold jewellery, uncut diamonds and emerald-cutting. Another most exclusive art is 'thewa' from Chittaur popular for its gold work on glass. Some of the traditional adornments are Rakhdi (head ornament), Tussi (necklace), Baju Bandh (armlet), Adah (special necklace worn by Rajputs), Gokhrus (bracelets), Pajebs (anklets), etc.

Feminine Jewelery : Feminine jewellery is more complex than masculine jewellery. Jewellery in India is worn as a complete ensemble and not as an accessory. It is thus quite acceptable to wear more than one necklace around the neck, also in the ears, on the toes and fingers, ornaments on the forehead, in the hair, and so on, any number to be worn at the same time.

Masculine Jewelery : Vanity, a love of opulence and deep aesthetic sense gave the Rajas and Ranas of Rajasthan a great fondness for jewellery. The men were as elaborately and dazzling dressed as the women, with jewelry that often rivaled that of their wives. It was a status symbol and a portable display of wealth, and consequently, power Turban jewellery was the prerogative of king, his close family or the members of his entourage (including his horse).
Silver Jewellery : Wearing jewellery in the villages symbolizes social and economic status. One can find men and women are bedecked with elaborate silver jewellery as bracelets, rings, pedants, nose pins etc from toe to head. Even today some of the most traditional designs are found in silver jewellery.

Precious And Semi PreciousStones : Rajasthan has rich deposits of precious and semi-precious stones such as emerald, garnet, agate, amethyst, topaz and lapiz lazuli. Each gem is believed to have inherent powers and are used as lucky charms along with their beauty as jewellery pieces.

Kundan Jewellery : A speciality of Rajasthan, is work of Kundan, the jewellery in which kundan is applied, mostly made from a core of lac, a natural resin. Kundan jwellery is a combination of gems and meenakari on either side of an ornament with vibrant colors.

Pratapgarh Jewellery : Pratapgarh has developed its own way of enamel work which has given rise to new style of jewellery. Here the enamel work is done with gold or silver using colored glass pieces as the base.

Lac Jewellery : Jaipur,Jodhpur and Udaipur are very famous all over for Lacquered work. Lac bangles, toys and different articeles are shoppers delight. Udaipur produces diffrent objects such as tables, lamps and decorative articles in various shapes, sizes and colors.

Meenakari Jewellery : Meenakari is famed for its delicacy and its use of colors. Enamel work is done on both silver and gold ornaments and has flourished under the patronage of kings, queens, seths and princes.

Gold Jewellery : The most demanded metal in Indian jewellery also forms an important part of jewellery in Rajasthan. Starting from 24 ct. to 18 ct., gold jewellery is availbale in all forms. Along with pure gold, one finds it studded with various precious and semi precious stones.

Textile Ornamentation : Besides all this jewelry, the saris and the lehengas (long skirts) of the ladies may be richly and heavily embroidered with gold and silver threads. A single grain of gold could be drawn to a length of 500 feet.

Other Materials : Ivory was often used to make jewellery, especially bangles, which are considered an essential part of bridal jewelry. The bangles are often overlaid with gold. They are often dyed in various colours, though the most popular one is red. The production of ivory bangles has now been stopped due to the ban on use of ivory and has been replaced by plastic or bone. Lac jewelry, usually bangles, are often worn in Rajasthan on all auspicious on all auspicious occasions as a sign of goods omen.

Jewelery Centres : Jaipur market holds the monopoly in the jewellery houses all over India and in the global arena too. This colorful market is popular as the name of Johari Bazaar which ranks among the most exclusive jewellery markets in the world. The variety of ranges is beyond compare and not only does it cater for the elites or the high socialites but a vast collection of semi-precious and silver creations are at display in reasonable prices too. An exclusive Rajasthani traditional work of art is of setting precious stones (diamond chips, precious gems) in solid 22-carat gold, the design and workmanship is beyond compare. It is famous of Jaipur and Jodhpur. Rajasthan is a land where tradition has been imbibed into ecery aspect of life.
Welcome Rajasthan Travel & Tourism Services
(Authorized by Tourism Dept. Govt. of Rajasthan)
C/O Umaid Mahal ,C-20 / B-2 Bihari Marg, Jai Singh Highway,
Opp. Lane of K.P. Automotives, Bani Park, Jaipur - 302016, Rajasthan (India)
Telephone : + 91-141-2205528 / 4914416 (09:00 A.M. To 06:00 P.M.)
+91-9829614748 (06:00 A.M. To 06:00 P.M.)
Fax : +91-141-2204470
For Car Rental Email: welcomerajasthan@yahoo.com
For Tour Package Email: info@welcomerajasthan.com

Emergency Contact Number : +91-9829614748

Other Information
City Distances Passport and Visa Information What to Pack Useful Phrases
---
Car Rental Services
Rajasthan Tour Packages