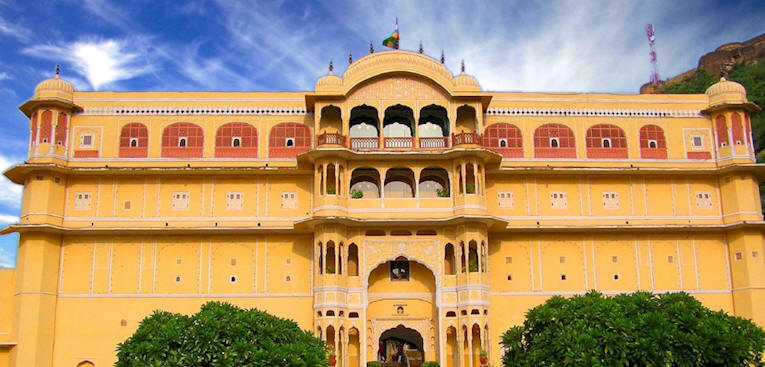 Rajasthan, India's desert state, was once a collection of princely kingdoms where feudal traditions still carry on amidst forts and palace hotels. Rajasthan is where all the country's similes and metaphors appear to have come together to create a visual extravaganza.

Majestic palaces and rugged forts, spectacular deserts, wooded hills and tranquil lakes, bustling towns and quiet villages, amazing flora and fauna and of course, the colorful and vibrant people of Rajasthan form an intricate tapestry of mysticism, grandeur and rusticity. Behind the breathtaking beautiful facade, expect to find contradictions to the ordinary and mundane aspects of vacationing. Wherever you travel, particularly when you escape from the popular tourist destinations, you will come across the unexpected, whether it is a local fair or a bustling bazaar or mind-blowing architectural wonders. The mood and the rhythm of the countryside changes from one region to another, and from season to season. Rajasthan tourism creates a land of magical fantasies that remain a lifetime memory.
Rajasthan Location
Rajasthan is situated in the north-western part of India. It covers 342,239 square kilometres (132,139 square miles). Rajasthan lies between latitudes 23 degree 3'and 30 degree 12', north and longitudes 69 degree 30' and 78 degree 17', east. Compared to many countries that are located in a similar latitudinal belt, such as in northern Arabia, Rajasthan has a less harsh climate. The State's scorching and dry summers and its parched landscape is undergoing significant changes because of the developmental effort that have led to the spread of the Indira Gandhi Nahar.

The southern part of Rajasthan is about 225 km from the Gulf of Kutch and about 400 km from the Arabian Sea. Rajasthan is bounded by Pakistan in the west and north-west; by the State of Punjab in the north; by Haryana in the north-east; by Uttar Pradesh in the east, by Madhya Pradesh in the south-east and Gujarat in the south-west.
The Aravali mountain ranges that run from Delhi to Gujarat cut through the State almost vertically. The Aravali ranges divide the State through south-east and north-west. The north-west region covering two-thirds of the state consist mostly of a series of sand dunes. Bikaner, Jaisalmer, Jodhpur and part of the Jhunjhunu districts form part of this region. The eastern region has large fertile tracts.
Our Rajasthan Tour Agency
Welcome Rajasthan offers specialized Rajasthan tour packages and Rajasthan tourism in more than 100 packages, which have been made to suite any type of traveler, any budget and any duration. Our commitment remains the best and comfortable service for your holiday. Welcome Rajasthan is also one of the most trusted Rajasthan tourism travel agent having own transport and hotel chain in Jaipur, thus providing you clear and hassle-free holiday experience in Rajasthan.
Welcome Rajasthan Travel & Tourism Services
(Authorized by Tourism Dept. Govt. of Rajasthan)
C/O Umaid Mahal ,C-20 / B-2 Bihari Marg, Jai Singh Highway,
Opp. Lane of K.P. Automotives, Bani Park, Jaipur - 302016, Rajasthan (India)
Telephone : + 91-141-2205528 / 4914416 (09:00 A.M. To 06:00 P.M.)
+91-9829614748 (06:00 A.M. To 06:00 P.M.)
Fax : +91-141-2204470
For Car Rental Email: welcomerajasthan@yahoo.com
For Tour Package Email: info@welcomerajasthan.com

Emergency Contact Number : +91-9829614748