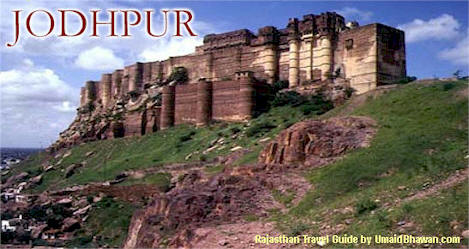 ---
Jodhpur
Jodhpur, once the capital of the former princely state of Marwar, is now the second largest city of Rajasthan. Flanked on its western side by the Mehrangarh Fort, and on the eastern side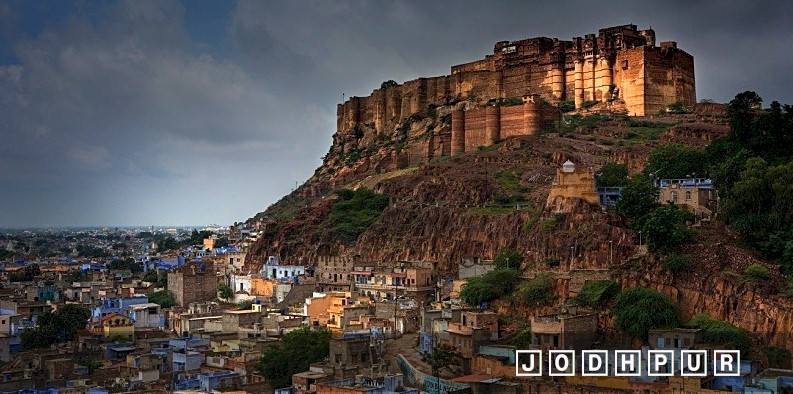 by the stately sandstone Palace of Umaid Bhawan; the monuments temples and gardens of Jodhpur depict a multi-faceted grandeur.

Founded in 1459 AD by the Suryavanshi Rao Jodha, Jodhpur gradually grew around the towering Mehrangarh Fort, built as a stronghold on the advice of a sage. Alongwith Bikaner and Jaisalmer, Jodhpur too is situated on the ancient silk route that linked Central Asia and Northern India with the seaports of Gujarat. As a result it became a major trading centre in the 16th century. Reminiscent of the bygone years is the fact that Jodhpur is still the leading centre for cattle, camels, wood, salt and agricultural crops. The beauty and imagination that has gone into the making of this monumental city proclaim the life-springs of creative genius that appear incongurent with the harshness of this land and its climate.

Mehrangarh Fort- In the turbulent political times of 1459 AD. Rao Jodha was adviced by a saint to establish an impregnable head-quarter and so, the Mehrangarh Fort was built on a steep hill. This formidable hill top fort is among the best in India with exquisitively latticed windows in residential apartments within. Carved panels and porches, elaborately adorned windows and walls of Moti Mahal, Phool Mahal, Sheesh Mahal, Sileh Khana, seem to make the medieval splendour come alive. A collection of musical instruments, palanquins, royal costumes, furniture and the cannons on the fort's ramparts are preserved.

Transportation
Air
: Indian Airlines connect Jodhpur with Jaipur, Delhi, Udaipur and Bombay.
Rail
: Jodhpur is connected by rail with Jaisalmer, Bikaner, Jaipur, Delhi, Ahmedabad, Abu Road, Bombay via Ahmedabad Barmer and Udaipur via Marwar.
Road
: By road Jodhpur to Agra 577 kms, Ajmer 198 kms, Barmer 220 kms, Bikaner 240 kms, Bombay 1073 kms, Delhi 592 kms, Jaipur 343 kms, Jaisalmer 290 kms, Mount Abu 264 kms, Udaipur 275 kms, Ranakpur 175 kms.
Bus
: Regular bus services available from Jodhpur to Ahmedabad, Ajmer, Jaipur, Udaipur, Jaisalmer, Bikaner, Ranakpur and Nathdwara.
What to see

Mehrangarh: One of the most stunning hill forts of Rajasthan, Mehrangarh appears to rise from the bluff-coloured sandstone hill itself, so well built into the base that it is difficult to tell where the hill ends and the walls begin.
Umaid Bhawan Palace: Umaid Bhawan Palace can qualify for several firsts: the largest private residence in the world, the finest extant example of art-deco, the only palace to have painting from the Ramayana painted by a Polish artist, the first to use air-conditioning, electricity and elevators, and the most impressive for its size and dimensions.
Jaswant Thada: A cluster of royal cenotaphs in white marble built in 1899 A.D. in memory of Maharaja Jaswant Singh II. Within the main cenotaph are the portraits of various Jodhpur rulers.
Government Museum: Located in the Umaid gardens on High Court Road, it has a large and fairly interesting collection.
Mehrangarh Fort Museum: This is an excellent museum with rare and interesting artifacts, textiles, paintings, transport items etc. laid out with utmost care and thought. The Palanquin Gallery and Howdah Gallery display a superb collection of old and costly specimens of great historical value.
Umaid Bhawan Palace Museum: Recently the ruling family of Jodhpur has converted a part of the gigantic Umaid Bhawan Palace as a Palace Museum.
Government Museum, Mandore: About 8 kms form Jodhpur; Mandore was the capital of Marwar. This enchanting place having beautifully carved cenotaphs, halls of heroes, palaces and old fort, is of immense historical importance.

Excursions

Balsamand Lake and Garden (5 km), Mandore (8 Km), Sadar Samand Lake (55 Km),
Guda Bishnoi (25 Km), Mahamandir Temple (9 km), Kailana Lake (11 Km), Jhalamand Garh (10 Km), Luni Fort (35 Km)
Altitude: 238.0 mtrs.
Best Season: Oct - Feb
Climate: Summer
Mean Max. 40.0 'C
Mean Min. 30.0 'C
Winter Mean Max. 25.0 'C
Mean Min. 11.0 'C
Clothing: Summer light tropical or cotton Winter Woolen.
Distances from Jodhpur :

Delhi
597 Kms.
Agra
568 Kms.
Ajmer
208 Kms.
Alwar
483 Kms.
Bharatpur
478 Kms.
Jaipur
340 Kms.
Jaisalmer
305 Kms.
Jodhpur
- Kms.
Mt. Abu
326 Kms.
Ranthambhore
481 Kms.
Welcome Rajasthan Travel & Tourism Services
C/O Umaid Mahal ,C-20 / B-2 Bihari Marg, Jai Singh Highway,
Opp. Lane of K.P. Automotives, Bani Park, Jaipur - 302016, Rajasthan (India)
Telephone : + 91-141-2205528 (09:00 A.M. To 06 P.M.)
+91-9829614748 (06:00 A.M. To 06 P.M.)
Fax : +91-141-2204470
For Car Rental Email: welcomerajasthan@yahoo.com For Tour Package Email: info@welcomerajasthan.com

Emergency Contact Number : +91-9829614748
Skype ID: welcomerajasthantours